Kelvin Kamau (Kelvin Conscience Kamau), a seasoned Royal Media Services employee and producer, has bid adieu to the company after an illustrious eight-year tenure.
The departure of Kamau, known for his creativity and knack for producing top-notch content, has left a void that resonates within the media industry.
Rumors have also swirled around the potential exit of Inooro TV News anchor Ken Wakuraya, a close friend of Kamau, intensifying the buzz around this unexpected twist.
Read also :Ken Wakuraya's Early Acting Career on Tahidi High Prepared Him for News Anchoring
Kamau took to his social media platform to announce his departure with a touch of humor and a flood of gratitude.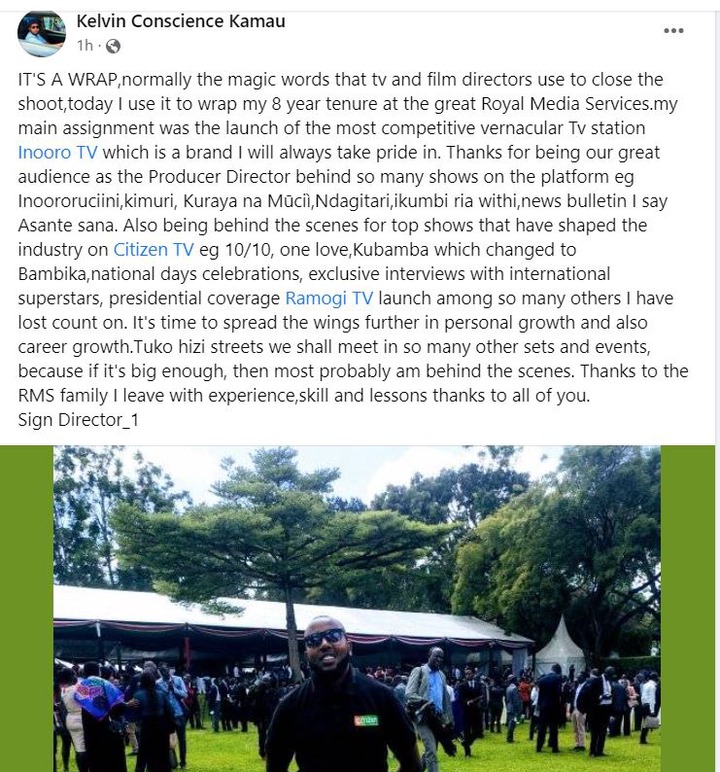 With a heartfelt post, Kamau penned, "IT'S A WRAP" – the magic words directors use to conclude shoots. Yet, these words carried a poignant significance as he closed an eight-year chapter at the esteemed Royal Media Services.
His journey was marked by noteworthy achievements, but none more monumental than his instrumental role in launching the fiercely competitive vernacular TV station, Inooro TV.
"I will always take pride in the brand," Kamau expressed as he recounted his main assignment. The inception of Inooro TV was a watershed moment, redefining vernacular television and capturing the hearts of audiences across the nation.
Kamau's influence extended beyond Inooro TV, reaching the broader landscape of media. His creative fingerprints graced numerous shows, including "Inoororuciini," "Kimuri," "Kuraya na Mūciì," "Ndagitari," "Ikumbi ria Withi," and the news bulletin.
His mastery was equally evident behind the scenes of trailblazing Citizen TV programs such as "10/10," "One Love," and the metamorphosis from "Kubamba" to "Bambika."
His role wasn't limited to entertainment; he was a driving force in shaping the media landscape during national celebrations, conducting exclusive interviews with international superstars, and covering presidential events.
Kamau's departure is not the end of his journey, but rather a turning point. He expressed his desire to continue spreading his wings, fostering both personal and career growth.
With his distinct touch, he humorously assured that the media streets would cross paths with him behind the scenes, a testament to his unwavering commitment to his craft.